Long term bike storage (also referred to as Class I Bicycle Parking) is meant for building occupants or visitors who will use the space for more than 2 hours, on average.
Typically, these areas are located indoors to provide a greater amount of protection from outdoor environments, as well thieves/vandals.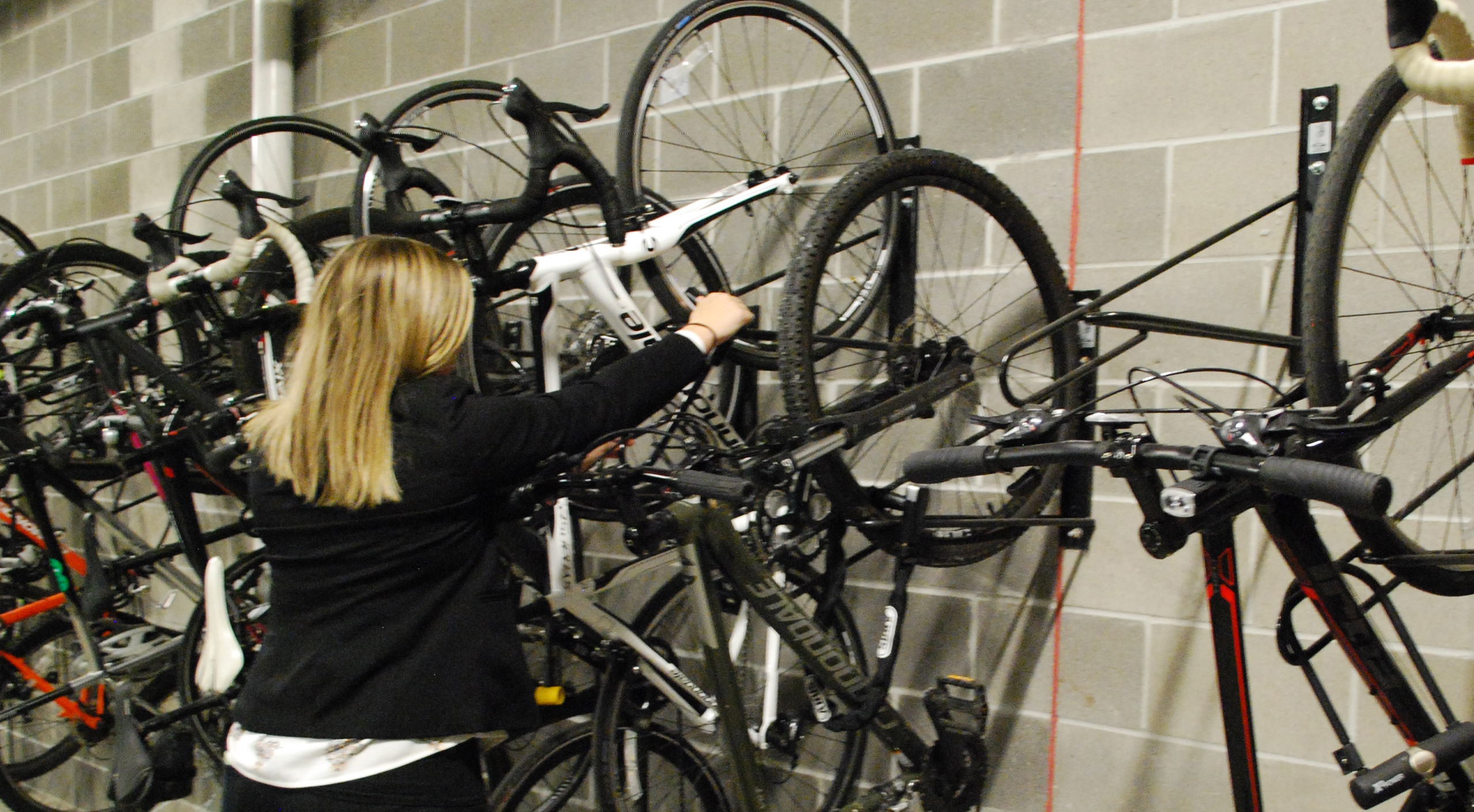 A bike room is an application of bike storage and a growing trend in many residential and business facilities.
Alternatively, bike parking (also referred to as Class II Bicycle Parking) is commonly designated for scenarios where parking is only needed for the short term - typically less than 2 hours.
Bike parking is usually outside, with more exposure to elements that make the solution less secure.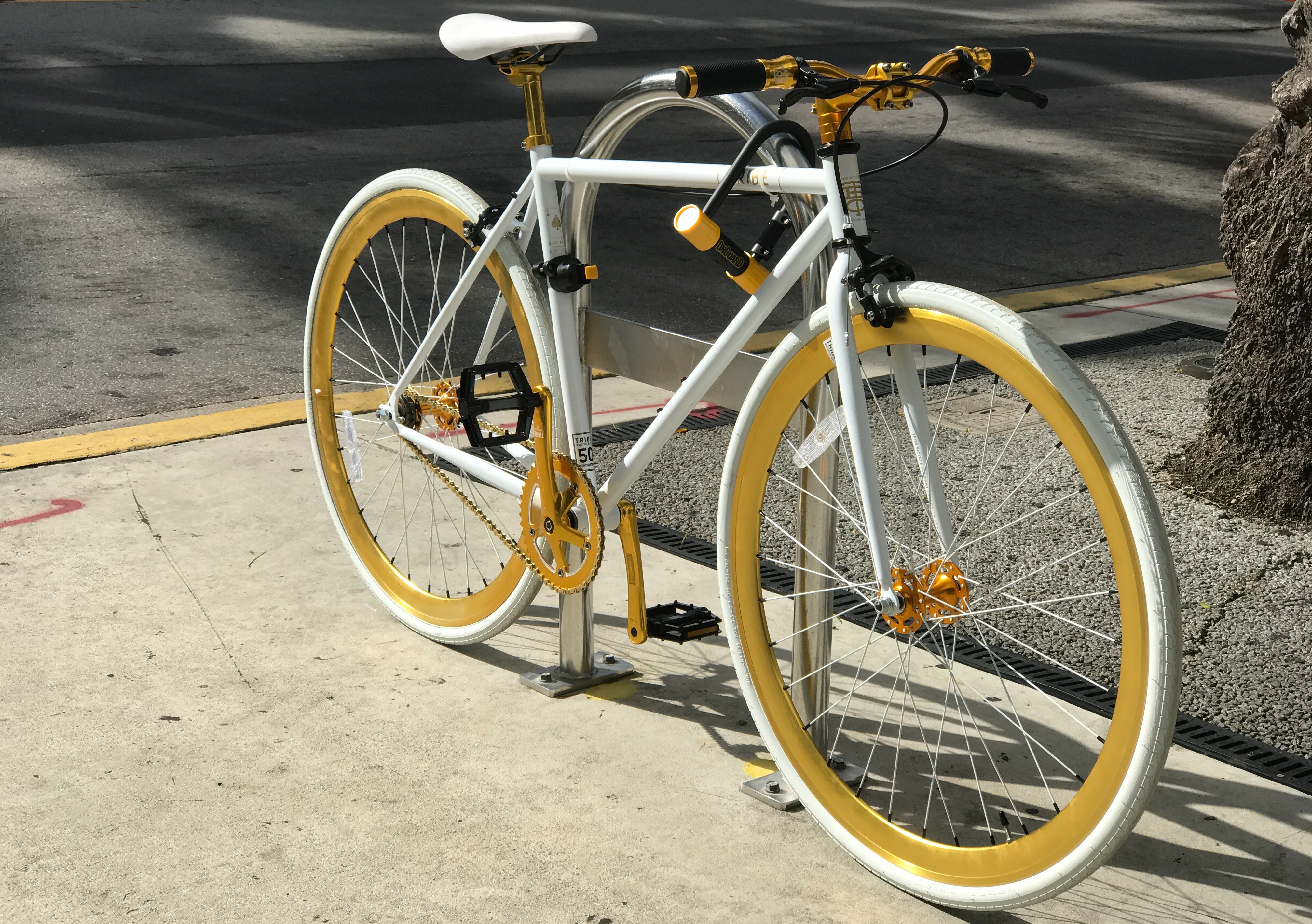 Common examples of bike parking can be found on sidewalks, in parks and in front of commercial businesses.
Bike storage: Long-term bike parking with increased security.
Bike parking: Short-term bike parking with basic security.
Whether you need enough indoor bike storage to store 5, 15, 50 or more than 100 bicycles, the best way to get started is to begin with the end in mind.
The key to creating dynamic mass bike storage areas comes down to knowing your goals. Essentially you want to determine what you'd like to accomplish with your bike storage area.
Do your building plans have set-aside area for bike storage and you just want to have as many parking spots as possible?
Are there local codes requiring a specific number of bicycle storage spots you need to meet?
Will long term bicycle parking be an amenity your property needs to have in order to be competitive in your market?
Whatever your goal, keeping it in mind will help you evaluate options and make the best decisions for this project.
Especially when it comes to bike storage racks. There are many styles designed specifically for bicycle storage. Each offers different ways to take advantage of the available space.
Then it's a matter of making your vision work within the parameters of your local municipal codes and makeup of the site itself.
Before you can put together any sort of bicycle storage ideas, plan or layout, you need to know your bike storage requirements.
How many bicycles need to be stored?
What are the restrictions on types of bike racks that can be used?
What are the spacing, setback and aisle ordinances?
To find these answers, you should start by reviewing the local municipal codes. If you're unfamiliar with the local ordinances where the building resides, we recommend using the website library.municode.com.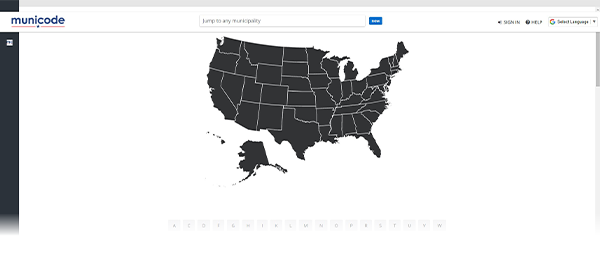 Using this website, you will find a collection or municipal codes and can even search within the text of the documents.
Following the local codes, you will then need to apply best practices to the make-up of your room.
Let's get started by taking a closer look at the key requirements.
Bike Storage Space Requirements
In your review of the local codes, the first thing you will want to look up are requirements for the number of bicycle parking spots.
Often this is a mandated ordinance, typically based on the number of rooms, building occupants or square footage of the building.
Knowing exactly how many bicycle parking spaces are needed is crucial information moving forward. It will impact your decisions on the type of bike racks to use and necessary space to install them.
If there is no ordinance requiring a certain number of indoor bike storage spots, we suggest following the APBP recommendations for your bike storage room or area.
For office buildings the guideline is 1 bike storage space for every 10,000 square feet of floor area.
For buildings with multi family bike storage, plan on a half space of bike storage for every bedroom.
Health care and hospitals - either one and a half spaces for every 20 employees or one space for each 50,000 square feet of floor area. Whichever is greater.
Public elementary, junior high and high schools should have one and half spaces for each 10 employees. Plus, one and half spaces for each 20 students of planned capacity.
For colleges and universities, it's one and a half spaces for each 10 employees, plus one space for each 10 students of planned capacity. OR, one space for each 20,000 square feet of floor area. Whichever is greater.
There is also a third option for determining bike storage spaces, store as many bicycles as possible in the area designated for bicycle storage.
It's also worth remembering, these are guidelines for long-term bike storage areas. These do not reflect the spots needed for short-term bike parking.
Bike Storage Racks & Spacing Ordinances
In addition to the number of bicycle storage spots you will need to create, you will want to review the municipal codes for items pertaining to approved bike storage racks.
Ordinances can list out criteria a bike rack must adhere to. This might include materials or certain measurements.
It may also restrict certain types of bike racks. For example, bike racks requiring the user to lift the bicycle, like a vertical bike rack or two tiered, might not be permissible in senior facilities.
You'll also want to be aware if there are any ordinances on spacing of bike racks. Things like how far apart each rack needs to be placed. If there needs to be aisle space behind the bike rack. Or setbacks from walls and other objects.
Wall Materials
Once you know the number of bicycles spots and municipal code requirements, you will now need to consider the physical properties of the bike storage site.
The surface that the bike racks will be installed on will play a key role in determining the best options for your bicycle storage area - with walls being the area of focus.
If you plan to use wall-mounted bike racks. The material of the wall will determine if bike rack can be used and how it can be mounted to the wall.
For wall materials, poured concrete is ideal. Generally, you can anchor bike racks directly into the concrete.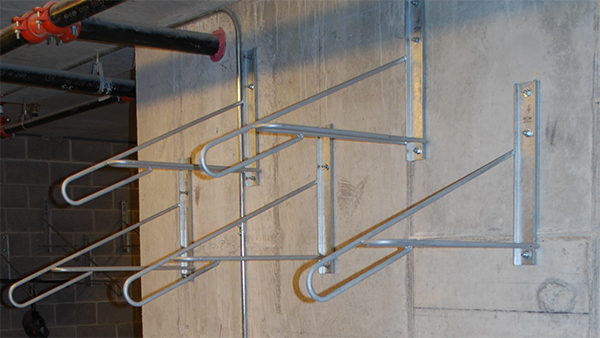 If installing into existing concrete, there may be limits as to how deep the concrete can be drilled. This is important to know as many bike racks require it be fastened to the wall with an anchor bolt.
For concrete blocks, brick, as well as steel and metal studs behind drywall, these might require specific mounting hardware not available with all bike racks.
When anchoring into a wall is not an option, a freestanding bike rack will be the best solution. We go more into details about styles of bike racks and the best situations to use them in another post. But for this article, it's worth noting not all bike racks require anchoring to walls.
For those that do, again, make sure to check local ordinances on what is allowable for drilling and anchoring into walls.
Obstructions
The next item of note with walls, would be any obstructions. Like mechanicals, plumbing, electrical fixtures, windows and so on, that would inhibit a bike rack from being installed on the wall.
With individual racks, there is more freedom to work around these obstructions and place the racks where you would want them.
Obstructions become a greater challenge when you want to install a system with bike racks on a u-channel or a freestanding unit. These would require a smooth length of wall.
Ceiling Height
Ceiling height will also need to be taken into consideration. With vertical bike racks and two-tier bike racks, there needs to be enough clearance above the rack to lift the bicycle onto the bike rack. Your municipality's codes may also specify the necessary amount of clearance.
Room Shape
The shape of the room also affects the outcome of your bike storage area. This comes into play with the amount of space behind a parked bicycle that needs to remain clear, thethe aisle. With rooms that have walls that narrow, the number of bicycles that can be stored may be reduced due to the necessity of the aisle.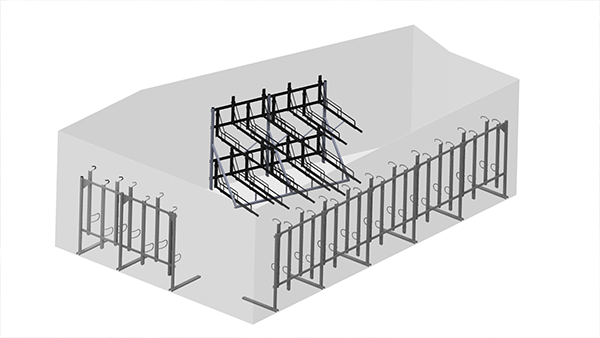 Other objects within the bike storage area, like pillars and beams, must also be accounted for, to ensure these do not limit the needed spacing behind a bike rack.
Take Notes
As you collect this information, we encourage you to write it down and have on hand for easy reference later.
Reason being, these items along with your overall goal will guide you to the best bike storage rack solutions to use in building out a bike storage area in your building.
When it comes to creating indoor bike storage, there are four types of bike storage racks you will primarily use.
But before we dive into the specifics of each type of bike storage rack, there is a common element any bike storage rack should possess.
Because the intent of bike storage is to park bicycles long-term, security is a main concern.
This means the rack should have an element that allows the frame and ideally, one wheel of the bicycle to be locked to the rack. This will keep bicycles more secure while they sit unattended for longer periods of time.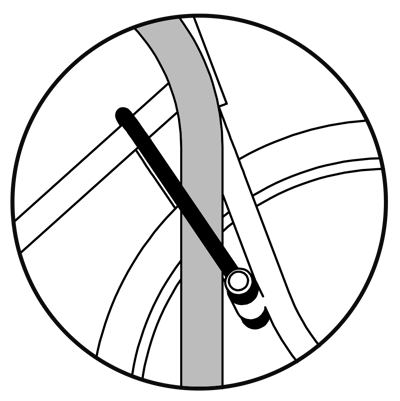 With that in mind, let's look at each type of bike storage rack.
Ground Mounted Bike Storage Racks
When used for bicycle storage applications, there are two types of ground mounted bike racks to consider – high density and standard density.
High Density
For bike storage, high-density ground bike racks are typically a popular selection.
This style of bike rack allows bicycles to be parked closer together, as the height of each rack alternates and avoids the problem of overlapping handlebars.
The Shark Up bike rack from Madrax is one example of a high-density ground bike rack.
These racks are a great choice when wall-mounted bike racks are not an option. Either because racks are restricted from being anchored to walls or it is mandated the bike storage be ground mounted.
Standard Density
Standard density bike racks are another category of ground bike racks often used in bike storage areas. Inverted u bike racks, post & ring and freestanding bike racks would be examples.
The style of these racks does not accommodate as many bicycles to be stored as high-density racks. But they are often used in designs intended to make the bike storage areas easier to use.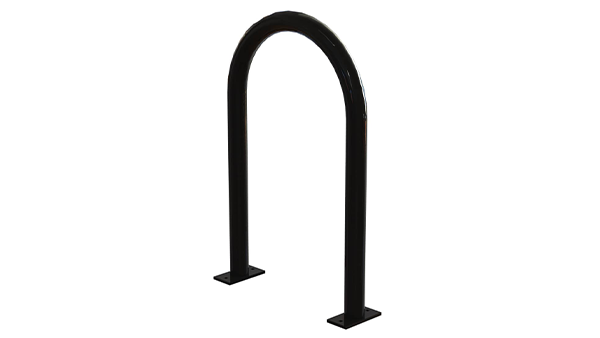 Additionally, you will often see these racks where ordinances call for minimum distances of at least 24 inches between racks.
Most high-density bike racks would not meet this requirement as the spacing between those racks is usually about 15 inches.
Racks on rails or freestanding ground-mounted bike rack units are options when racks cannot be mounted to the floor. This could be because of drilling or other restrictions.
Vertical Bike Storage Racks
The reason vertical bike racks are used so often is because they're designed to store the bicycle vertically – which reduces the amount of floor space needed to park a bicycle.
The racks can also be staggered vertically. And like high-density ground mounted bike racks, this allows bicycles to be parked closer together, maximizing the number of spots that can be created.
The next thing you will need to consider when evaluating vertical bike storage, is that they are generally available in three mounting styles. Those would be Wall Mounted, Strut and Freestanding.
Wall Mounted
A wall mounted bike storage rack is secured directly to the wall by installing anchors in the wall. This means you will need to be able to drill into the wall to use this type of rack.
In terms of the different styles of wall-mounted racks, most commonly you will see two types. One that consists of just an element to hold the front wheel of a bicycle.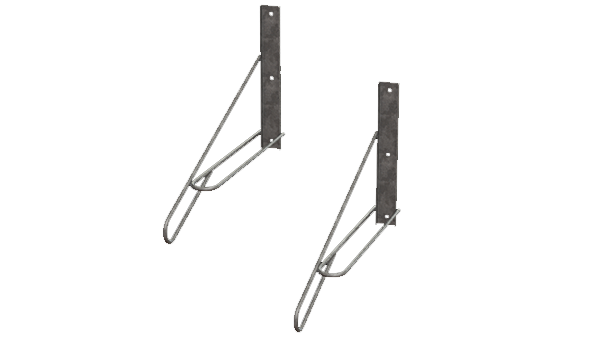 The other has an element to hold the wheel, as well as a tray where wheels of the bicycle will rest. The tray feature is often selected to help protect walls from dirt, mud, sand, salt and other debris on bicycles wheels that can be transferred or cause damage to the wall.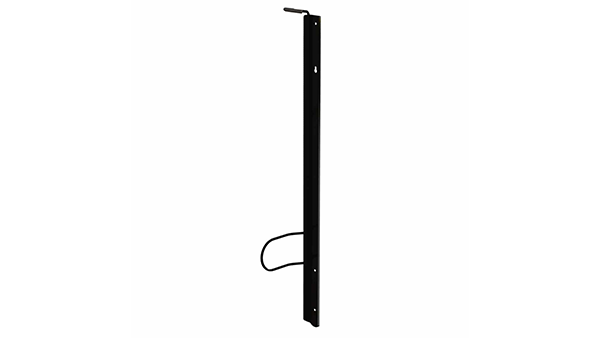 Strut
The second wall bike rack mounting configuration is a strut mount. With this, a strut or c channel is mounted to the wall. The racks are then anchored to the channel. Again, to use this type of rack mount, you must be able to anchor into the wall.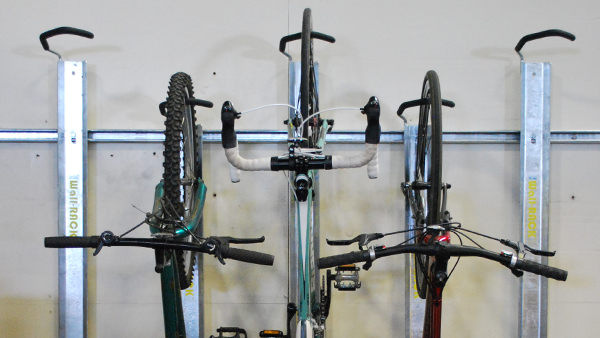 The benefit is each rack can be re-positioned along the channel without the need to drill more holes into the wall. This is advantageous when you want the option to expand the number of racks in your bike storage area in the future.
This rack style makes it easy to set up your bike room one way now and easily add to and reconfigure later.
A potential challenge in using a strut-mounted vertical bike rack, other than drilling restrictions, is there would need to be an unobstructed length of wall for the channel to run.
And like the wall-mounted, these are available with just the rack element or a rack and tray.
Freestanding
For situations when you want to use vertical bike storage, but are unable to anchor into the wall, a freestanding bike rack is your best option.
This type of rack is a stand-alone unit with legs and racks anchored to a channel. Just assemble and place where desired.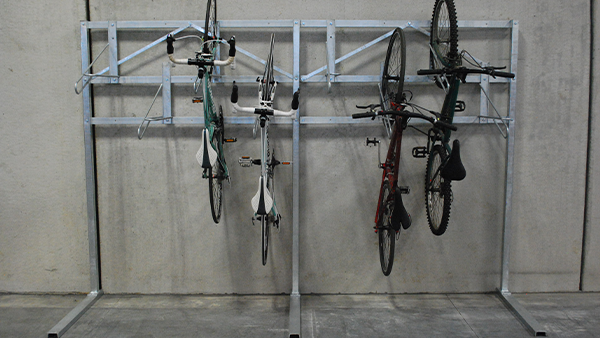 Freestanding vertical bike racks provide the additional benefit of creating bike storage spots in the open areas of rooms – no walls needed. This allows you to maximize the bike storage density within the area.
Horizontal, Wall Mounted Bike Storage
Bicycle storage doesn't have to be confined to a bike room or its own designated area.
There are instances where you need to create bike storage spaces in an existing building where a separate area doesn't exist, or it is not in the construction plans.
For these situations a horizontal, wall-mounted bike storage rack would fit your needs. These are well-suited to utilize most any wall space. Like the front of car stalls in a parking garage for example.
Two Tier Bike Storage Racks
Another popular style of bike storage rack, because of its high-density design, is the two-tier bike rack.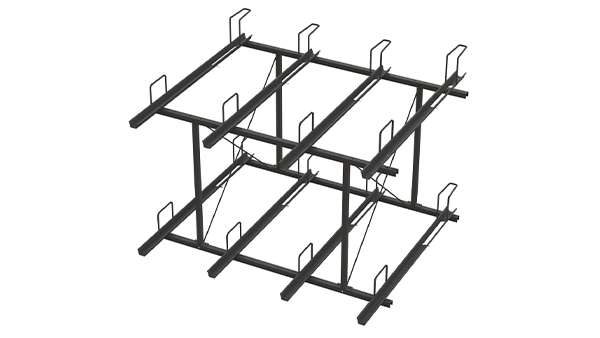 With these racks there are two tiers, or levels, for storing bicycles. In terms of creating the greatest number of bicycle storage spots along a length of room, this is the rack to choose.
But, as bicycles are parked horizontally on these racks, there needs to be enough aisle space behind the rack to effectively maneuver bicycles into and out of the racks.
So two-tier bike racks typically require wider areas to be installed.
You will also need to ensure your ceiling height is enough to accommodate storage of bicycles on the upper level, along with additional clearance for loading the bicycle. Generally, this is around nine feet. But could vary depending on the specific rack you select and your local ordinances.
The other item worth considering with a two-tier bike rack, is a lift assist.
This is a feature where the rack element on the upper level slides out and the rack tilts down to the floor. Making it easier for the bicycle to be loaded on the rack and returned to the upper storage position with the bicycle.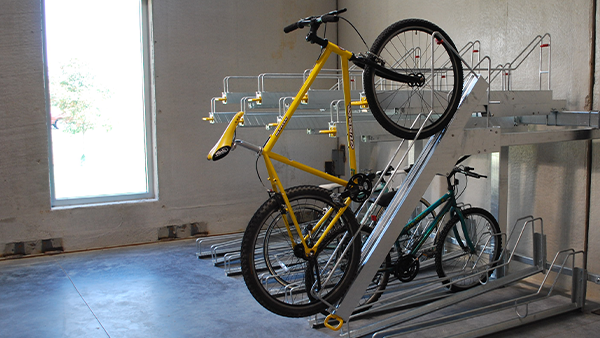 Bike racks with two levels are also great options for use with bike shelters and outdoor bike storage.
Bike Lockers
Another bike storage solution worth looking at, are bike lockers.
Because they completely encase the bicycle, they provide an additional level of security. Making them the most secure choice for storing bicycles.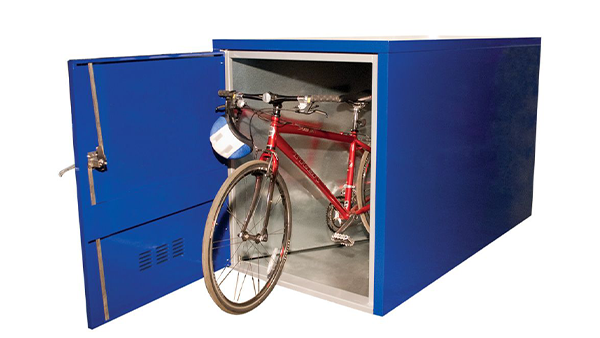 To maximize bike locker storage spaces, a single locker can be configured to hold two bicycles. A partition divides the locker and doors on each end of the locker grant access to one of the spots.
Further, bike lockers can be stacked to create more storage in the available area.
Vertical bike lockers are also an option when wanting to reduce the locker footprint.
Once you have an idea for the type of bike rack to use, the next step will be to properly lay out the bike racks to achieve the necessary number of bike storage spaces.
One of the most important pieces of a good bike storage plan is correctly spacing bike storage racks.
First and foremost, you need to make sure racks are placed with enough spacing between each rack.
Second, you need to ensure there is proper room for storing the bicycle and an aisle beyond the rack. Otherwise the rack could become unusable.
Let's go over bike storage space recommendations in more detail for the different types of bike storage racks.
Spacing for Ground Bike Racks
When laying out ground bike racks, start by setting the leg of the bike rack back from the wall a recommended 36 inches or minimally, 24 inches.
This provides enough room beyond the bike rack, for the frame of the bicycle to rest against the bike rack.
There should also be a recommended 36 inches or minimally 24 inches of clearance on the side of the bike rack.
Any less and there will not be enough space to park a bicycle on that side of the rack. This would reduce the number of spots to store bicycles.
Racks should then be 48 inches recommended, 36 inches minimum, from one another. This is enough room for bicycles to maneuver into the bike parking spot, while also allowing a user to lock/unlock their bicycle from the side.
There also needs to be a minimum of 48 inches, 60 inches recommended, of aisle space beyond the tire of a parked bicycle. This would be measured to the tire of another bicycle or a wall, depending on your layout.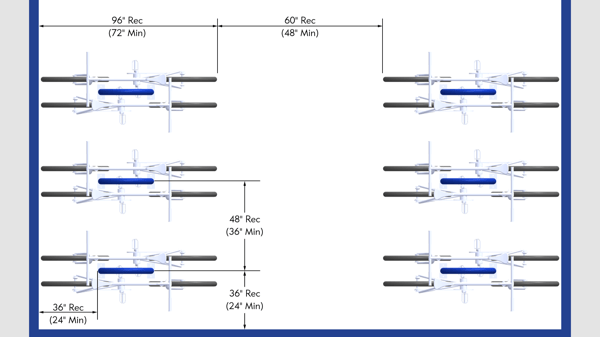 Spacing Recommendations
Space for the bicycle: 72" for a standard bicycle
Distance between racks: 48" recommended | 36" minimum
Setbacks from walls/obstruction


Oriented perpendicular to wall

36" minimum to nearest post
48" minimum to center of rack

Oriented parallel to wall

36" recommended | 24" minimum

Aisles: 60" recommended | 48" minimum
One option that can make spacing bike racks easier is to get bike racks on rails. Reason being, the spacing between each rack will already be set.
In high-density applications, this could be a potential cost savings because it would eliminate labor hours needed to measure spaces between and mount individual bike racks.
Then, all you would need to know is setback from walls and distances for aisles. Which you can usually find in a manufacturer's installation instructions.
Vertical Bike Rack Spacing
Vertical bike rack dimensions can be determined by placing the rack at a height on the wall where the rear tire would sit 8 inches off the ground, when the bicycle is seated in the rack.
The center of the rack should also be placed, generally, 15 inches away from a perpendicular wall, to provide enough room for a standard handlebar.
Place the next rack 15 inches horizontally from your first rack and raise it up 10 inches.
Continue placing bike racks every 15 inches, alternating the heights of each rack, along the length of your wall.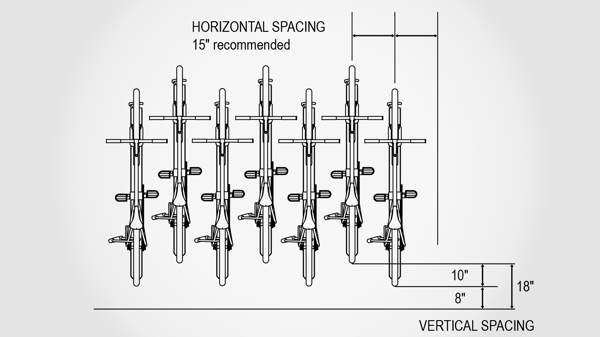 It's important that the height of each rack is staggered. Mounted at the same height, hanging bike rack spacing should be at least 24 inches, and ideally 30 inches apart.
Otherwise the handlebars of the bicycles will overlap and be in conflict. Ultimately, making every other spot unusable.
For strut-mounted bike racks, follow the manufacturer's instructions. This will direct you as to the height the channels will need to be mounted to the walls.
Once the racks are adhered to the channels, they will hold the bicycle at the correct height.
With freestanding bike racks, simply assemble per the manufacturer's installation directions and the racks will be set at the designed height.
Aisle Space
After you have properly spaced your vertical bike racks, you will now need to account for an aisle behind the stored bicycle.
A standard, full-sized bicycle from tire to seat is about 48 inches. You will then need a recommended 48 inches of aisle space beyond this that needs to remain clear.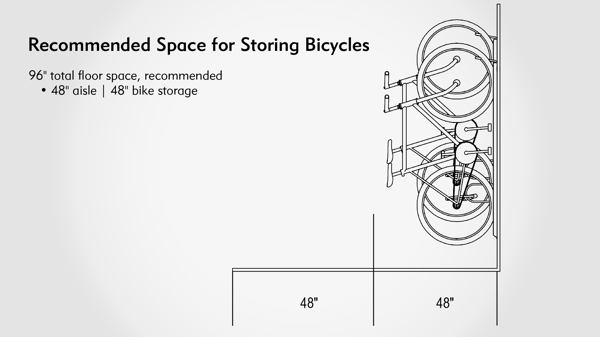 This aisle offers enough room to raise/lower bicycles onto the rack and maneuver them in and out of the bike storage area.
In total, 96 inches from the wall is needed to effectively use a vertical bike rack.
Vertical Bike Rack Dimensions
Space for bicycle: 96" total floor space, recommended (48" bike storage space | 48" aisle space)
Horizontal Spacing Between Staggered rack: 16" Recommended | 14" minimum
Vertical Spacing Between Staggered Racks: Typically, between 8"-12"
Vertical Clearance - Varies depending on rack used. Can be determined by finding the sum of three dimensions

Ground clearance (Typically 8" minimum)
Bicycle length (72" minimum)
Lifting clearance (Depth of hook that supports bicycle)
Spacing for Two-tier Bike Racks
When it comes to two-tier bike racks, these typically come as complete units, so you won't have to worry about horizontal or vertical spacing.
The unit will usually then need to be placed with 10 to 15 inches of clearance on the side from a wall, door, or other obstruction, to allow room for handlebars of stored bicycles.
You will then need to factor for aisle space beyond the rack.
This again, should be at least 48 inches. Add this to the length of your two-tier bike rack. This measurement will be the total distance needed in your bike storage area to use the bike rack.
You will also, generally, need 9 feet of clearance measured from the ground to the ceiling or other overhead obstruction, like a ceiling fan or lights, to store bicycles with these racks.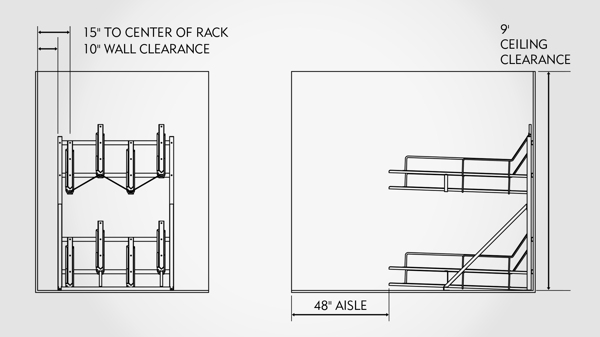 Spacing for Bike Lockers
By design, bike lockers are relatively modular and are meant to be banked next to each other.
The one spacing item to be aware of is the aisle. Which is measured from the open door and not the end of the unit.
Depending on the size of bike locker, the door can range from about 30 to 40 inches. Along with a 48 inch aisle, you would need a distance of 78 – 88 inches between the locker unit and a wall or the open door of another locker.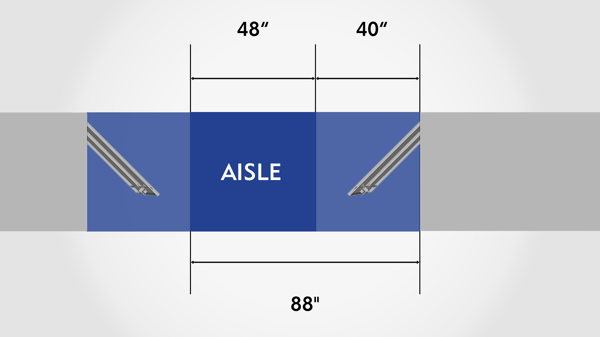 When placing and spacing bike racks in your area, keep in mind the measurements here are recommendations meant to provide general guidance for your layout.
They could change depending on the specific bike rack you use or your building codes. Make sure to use the manufacturer installation instructions and local ordinances for specific spacing information.