Popular and Effective Bike Parking



From the Graber Manufacturing, Inc. 2022 Webinar Series
In this recording of Madrax's Popular and Effective Bike Parking webinar, we define what qualifies as effective bike parking, review our most popular bike racks (along with some great alternatives), and look at how we can improve bike parking spaces. It was originally recorded on June 8th, 2022.
Host: Ryan Colwell
Facilitator: Chantel Pivotto
Panelists: Kaitlyn Ellerman, Larry Seiple
What is Bike Parking?
Bike parking can best be described as short-term, secure bicycle placement. This is typically done outdoors, where you can lock your bike up with a relative expectation of safety for up to two hours. A common example of bike parking would be securing your bike to a rack outside of a grocery store. 
This differs from bike storage, which is when a secure location, typically indoors, holds a bike for an extended amount of time, or what we consider to be anything over two hours. A common example of bike storage would be locking down your bike in a dedicated bike room of an apartment complex.  
What is EFFECTIVE Bike Parking?
When we talk about effective bike parking, we are examining both how safe it is and how easy it is to use. The more security a bike parking area has, and the more accessibility it has, the more likely bike riders will be to use it. And in turn, the more traffic your establishment will generate. To determine how effective a bike parking area is, we should look at three key aspects: the style of bike racks used, the materials those racks are made from, and the location of the bike parking area. All three are important in determining the safety and ease of use of a given parking area.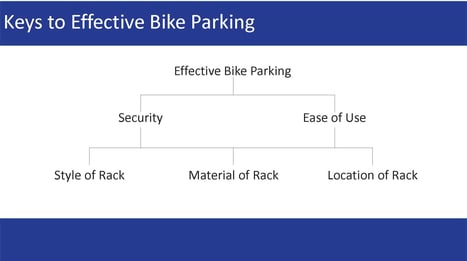 Style of Rack
One key feature for an effective bike rack is that it allows a rider to rest the frame of their bike at two points of contact on it. Doing so makes the bike more secure, as it has more surface area to lean on and is less likely to be pushed over than a bike resting at only one point of contact. The more area of contact a frame has to a rack, the more secure it will be. Therefore, additional support, such as a lean bar on a U rack, increases the stability, and in turn the security, of the bike.  
Another key feature of an effective bike rack is that it allows a rider to use a U lock on both the front wheel and the frame of their bike simultaneously. If a bike is only locked onto a rack with its front wheel, vandals can separate the wheel from the frame, and steal the bike without having to break the lock. In addition, if the bike is only supported by its front wheel on a rack, that wheel can bend if the bike ever falls over. Locking both the wheel and frame simultaneously prevents these unfortunate events from occurring. 
Lastly, an effective bike rack is easily recognizable. Depending on the design of a bike rack, people may not readily recognize it and won't be sure if they can park their bike on it. Typically, this issue is more common amongst modern, stylized bike rack designs. Despite how nice a rack might look, if no one knows that they can use it, it's not very effective! But, by having a bike rack that is easily identifiable, you accommodate bikers of all ages and knowledge bases.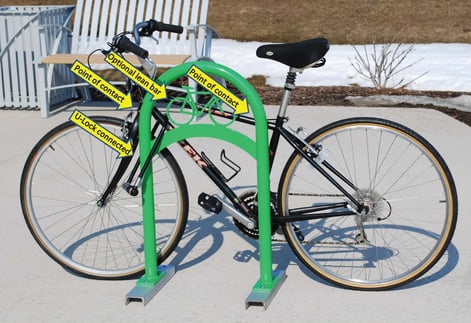 Materials of Rack
To have good bike security, your racks need to be made of high-quality materials. At Madrax, all our bike parking options are made from steel. It is an ideal material to use for bike racks because it resists cutting and bending and is available at an affordable price point. Here at Madrax, we make our racks out of steel tubing, which is commonly used for structural purposes. Typically, we use 10-gauge tubing, which means that our racks will remain structurally strong when facing our tough Wisconsin winters.
For many of our racks, you have a choice between our different steel finishes: galvanized, stainless, and powder coated. 
Galvanized Steel
When steel is hot-dipped galvanized, it becomes resistant to the elements and is extremely durable. Here at Madrax, our galvanized steel comes with a five-year warranty. This utility finish is our most economical choice, but may not be suitable for coastal areas, as salt can cause the galvanized steel to rust over time. Due to the galvanizing process, this metal is not able to be colored, and will leave our factory in its standard gray. The process also makes the steel have a rougher texture than our other choices. Because of this, riders may not prefer this type of rack if they have a high-quality bike and want to avoid scratches to their frame.  
Stainless Steel 
Stainless steel is not abrasive to the touch, looks great, and stands up well in tough weather conditions. It is the best option for previously mentioned salty areas. At Madrax, we typically use Grade 304 stainless steel, however you can specifically request Grade 316 with a sales representative. Like our galvanized steel option, our stainless steel comes with a five-year warranty. One aspect to watch out for with stainless steel, though, is just how hot it can get in the sun. You may want to avoid this option if you live in a particularly hot area that gets a lot of sun. 
Powder-Coated Steel 
The powder-coated steel option electrostatically adds a layer of color to the racks that lasts significantly longer than standard paint coating. With this option, you have your choice of 22 different colors. If you choose a bright color that matches your business' color scheme, it will make your rack hard to miss! This type of finish comes with a 1-year warranty. 
Mounting Options
When securing a bike rack to the ground, you have two main options, in-ground, and surface mounting.  
An in-ground mounted bike rack is, as the name suggests, a bike rack that has been embedded into the ground. This type of mounting only works with concrete, however, as it is too easy to remove a rack embedded in other types of surfaces, such as asphalt or dirt. Installing a rack in concrete makes it a highly secure option, as the only way to remove the rack is by destroying the ground encasing its base.   
A bike rack can also be mounted directly to the ground using drop-in anchors. This is known as surface mounting. Again, this method is only ideal for situations in which you are mounting onto concrete. When surface mounting, we strongly suggest that you use tamper-proof nuts to secure the rack, otherwise it can easily be removed with a hand tool.  
 If you want to place a rack on asphalt or dirt, you will need to leave that rack freestanding. You can use stakes to help hold the rack down, but their purpose would be more so to resist circumstantial movement as opposed to acting as a proper security measure. With these freestanding bikes, you'll typically want to get a heavier style of bike rack, so it deters theft. 
Another option for mounting a bike rack is to have it on rails. In this case, the rack elements are mounted to a c channel rail, creating an effective enclosure to lock a bicycle onto. If you want to mount the rails to concrete you can, but it also works as a freestanding mount if you want to place it on dirt or asphalt. At Madrax, we have a variety of styles that you can choose to order on rails. Standard racks, like U racks, can be mounted to rails, but also more interesting choices, such as Shark or Sentry racks. The weight of the rails will help to prevent the racks from being stolen. 
Location of Rack
To have an effective bike parking location, you need to make sure that enough space is provided for the riders and their bikes, and that the location is properly marked and secure. 
 A good bike parking location allows for at least 2 feet of clearance around every bike rack, so that bikes can be easily brought in and taken out. The area should be completely clear of obstructions, such as walls, fences, and other bike racks.  
When deciding where to place a rack, make sure that the rack can be accessed from all sides. Limiting access to sides could limit the amount of parking spaces available.
There should also be aisles in between bike racks. We recommend having 48" between racks, however at a minimum there should be at least 36", so that bikes can easily be moved into and out of spots. 
When designing a bike parking area, be sure to also check the ordinance of your given city. Each city has its own set of rules regarding different bike parking aspects, including how far off the road bike parking spaces can be, if there must be any required signs, or if there are regulations regarding bike racks on sidewalks. These ordinances are important because they help to ensure the safety of everyone who shares the road.
A bike parking area should be a well-lit space that is easily visible and identifiable. By placing a bike parking area in front of a business, or at the entrance of a park for example, many people can clearly see it. This will deter wrongdoers from attempting to steal a bike.  
But, even when a bike parking area is visible, there can be other factors that stop riders from using the parking spaces. For example, a car may park too close to a rack, making it temporarily unusable. To stop this from happening, you can install some markings that indicate an area is for bikes only. At Madrax, we offer a marking kit that can help easily identify a bike parking area and prohibit larger vehicles from impeding on the space. The kit clearly marks designated parking locations that are intended for bikes and prohibits cars from entering.  
You can also turn a car parking space into a bike corral. A transformed car parking space can fit up to 14 bicycles. By decorating the ground beneath a corral and placing physical barriers around the perimeter, the location is easily visible and gives riders plenty of space to park. To set up a legal bike corral, you should look up your city's specific traffic requirements.  
To truly set your bike parking location apart from the others, and to attract more bikers, you should add some helpful amenities, such as repair stations. At Madrax, we offer a Repairstan bike repair station that comes with all the tools a rider would need to fix an issue with their bike, as well as a Phil-Up bike pump, for riders who are looking to put some air in their tires. Both amenities are constructed specifically for the outdoors, meaning that they will withstand weather conditions, and bikers love the convenience they provide.  
Another aspect you may want to consider when creating a bike parking location is the addition of an overhead shelter. We offer several shelters, all of which reduce the amount of sunlight and precipitation. 
Our Most Bike Parking Options:
Winder & Challenger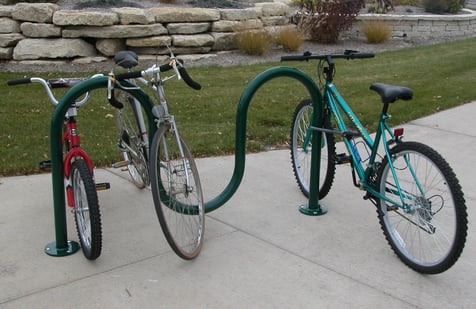 Both the Winder and Challenger bike racks are standard serpentine style racks. They are some of our most common bike rack designs. The main difference between the Winder and Challenger is that the Challenger stands a foot shorter in stature, which makes it more durable to extreme weather conditions. Some of the benefits of the serpentine style racks are that they are instantly recognizable and that they allow a lot of bikes to park in a relatively small amount of space. Unfortunately, some riders may not prefer these style racks because of a few aspects.  
Firstly, they only allow for one point of contact on the bike when used properly. This can cause the bikes to fall over and become damaged. Also, some people may find that these types of racks are difficult to use if most of the spots are taken up, because bikes can be too close together.  
Here at Madrax, we have several other designs that keep the same basic serpentine structure of the Winder and the Challenger but offer additional bike support. Specifically, I would like to highlight the Genesis and Circa style racks. These designs allow bike frames to rest at multiple points of contact. They are also easily recognizable as parking spaces for bikes, and their design leaves more space in between bikes.
Gridrac Gridracs are another popular item that are found in areas where high-density parking is needed, such as schools or parks. They are an economical option, as they can fit up to 18 bikes on a single rack. And because they are so widely available, they are easy to recognize, and most people are familiar with how to use them.
Like the Winder and Challenger, however, if a lot of bikes are parked on the Gridrac, it can be difficult to use. In addition to this, a Gridrac only holds the wheel of the bike, meaning that there is no spot for the frame to rest on. If another person knocks into a bike, it could fall, and the wheel could potentially be bent.
If you're looking for an alternative to the Gridrac, consider the U rack, which is a great, economical choice that also happens to be one of our most popular!
U Rack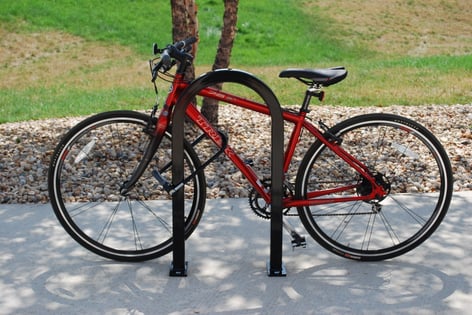 U racks are a classic, immediately recognizable style of bike rack that has a lot of great qualities! They provide two points of contact for a bike frame and allow a u-lock to easily connect to them. As long as they are spaced apart properly, u racks are easy to use, connect to, and disconnect from. They are an economical option and can each connect with up to two bikes, one on each side of the rack. We offer a variety of U rack designs, including options that come with a lean bar. The lean bar can even be customized to promote your business, school, or municipality.  
However, while U racks are a great outdoor security option for bike parking, they are not impervious to tampering and damage. Unfortunately, most cylindrical steel tubes can be cut through with a pipe cutter, which means that if someone wanted to steal bikes, they may be able to. A solution to this would be square tubing, which is not easy to cut through. The best overall design for U racks is our Square UX bike rack, which has square tubing, as well as a greater width of 31", as opposed to the standard U rack which has a width of 24". This means that there is more area of contact for the bikes to stabilize on.  
Madlocker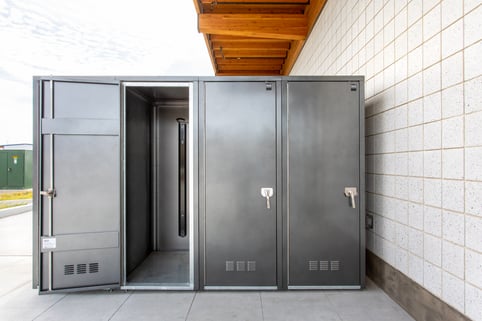 The Madlocker offers complete 360-degree security. All of the designs in our Madlocker series can serve as either a form of bike parking or bike storage, depending on location and intent. These versatile forms of bike security are a more costly alternative to standard racks, but the amount of protection they provide is unmatched. They are the best choice for riders who care deeply about their bike's condition and safety. They offer protection from both the weather and vandals. 
We offer multiple different lock styles that can come installed on the locker. You can choose whether you want to have pop-out T-handles that come with their own keys, or if you want bikers to provide their own locks. In addition, you can choose if you want solid doors or perforated doors on your Madlocker. Perforated doors allow you to see into the lockers, and solid doors allow a little bit more protection from the elements, as well as privacy. The Madlocker also allow units to stack on top of each other, meaning that you can save ground space, although this does require the lifting of the bikes to store them.   
If you're looking to conserve space, while still providing great security, a Vertical Madlocker and Narrow Madlocker are great choices. The vertical Madlocker takes up less floorspace, however it also cannot be stacked, and only fits one bike at per unit. The narrow Madlocker has a slimmer design, but also only allows 1 bike per unit.
---
Related Resources